Our Montfort School History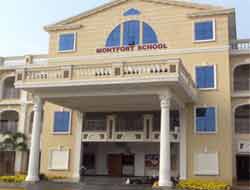 Montfort School is located at D.G.Pudur Erode (Dt) on the Sathy – Athany main road. The school was started in the year 2012 (18.06.2012) by MONTFORT BROTHERS of ST.GABRIEL –BENGALURU PROVINCE. The school follows CBSE stream and it has 663 students in its roll, studying from PRE-KG to XII th std.
The school has a dedicated band of 44 teaching and 11 non-teaching staff. The school has sufficient infrastructure, to cater to the needs of the children. A vast playground for all types of games and Sports activities, transport facilities, Laboratories, Kids Park, Labs, a well-equipped Library are available for the students. To cope up with the changes in the present education systems all our class rooms are with smart boards. The school offers extra classes, like Karate, Silambam, Music, Dance for those children who are interested. A special AV hall and Auditorium are available for multipurpose. A spacious Activity room for K.G kids is a Centre of attraction where children love to be in and learning becomes enjoyable and fun based activity. Our campus is environment free where children undertake their learning activity in a natural atmosphere. In its totality the school imparts a quality education to the children under its concern.