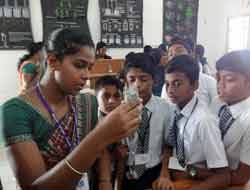 Science laboratory work is a unique way of instruction that is an integral part of science teaching.
It helps students understand complex, abstract ideas and gives students an opportunity to participate in and have an appreciation for the methods of science.
Laboratory work involves students in hands-on activities that help them participate in scientific investigations and to verify for themselves scientific concepts, principles and laws.
The students get a chance of learning by doing.
It encourages habits of neatness and discipline.
The students develop self-confidence and a sense of achievement.
The students develop the science process skills.